---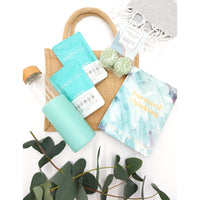 Wellness Gift Bag
Gift Box Ireland
Regular price $48.65
Tax included.
Shipping
calculated at checkout.
Wellness Gift Bag Contents Include:
- Wellness "Forward Thinking" Journal | From You to Me
- Reusable Glass Water Bottle with Mint Silicone Sleeve | Sass & Belle
- 2 x Almond Trail Mix Snacks 44g | Snack Farm
-2 x Organic "Breathe Easy" Shower Steamers | Organicules
- Handheld Shopper | Natural Jute
Note: When checking out put your own details in the "Billing" field and the recipients details in the "Shipping" field
__________________________________________________
Description
We all need a bit of wellness in our lives and this is the perfect Gift to make that happen. It is the perfect gift for hospital stays, days out, birthday, thinking of you, corporate.
Developed by Peter Coxon, a consultant psychologist who focuses on personal and leadership development, the Forward Thinking journal can help raise your self-awareness, your mindset and mindfulness. It can help you plan and review how your life is unfolding and help you make positive differences to your life that aid personal development.
The glass water bottle helps keep filtered water fresh and pure without the risk of chemicals contaminating the water. Glass bottles are much easier to clean and will retain their clarity after hundreds of washings. The wide opening allows you to add extra goodness such as lemon or lime slices.
The Snack Farm Almond Mix has a great balance of chewy and crunchy. This comes from the raw sliced and whole almonds combo, sunflower and pumpkin seeds, currants, cranberries and raisins, as well as a few cheeky chocolate drops.
The shower steamers are an ultimate blend of essential oils designed to ease nasal congestion and support respiration. Blended with uplifting Eucalyptus and energy boosting peppermint and rosemary. The breathe easy shower steamer will enhance your mental clarity while also clearing nasal passages, purifying and preparing you for the day ahead. As the shower water hits the steamer, the steam becomes infused with the scent of pure organic essential oils to help calm, relax, de-stress and energise the body and mind, morning or night.
Perfect for hospital stays, congratulations, work from home, home office, birthdays, thank you gift, corporate gift, new hire, employee recognition or "just because".
___________________________________________________
Out of Stock Items
On the rare occasion that an item is out of stock, it will be substituted with another item of equal or greater value. The quality and aesthetic of the Gift Box will not be compromised.